Unleash of Commuting with the isinwheel S9 Pro Electric Scooter
In a world that's constantly on the move, finding eco-friendly and efficient transportation solutions is paramount. The isinwheel S9 Pro Electric Scooter is a cutting-edge solution that's taking the urban commute by storm. With impressive performance features and a sleek design, this electric scooter is a game-changer for riders of all ages. Let's delve into the key performance characteristics of the isinwhel S9 Pro in this article.
The isinwheel S9 Pro Electric Scooter boasts an array of impressive performance metrics, making it a top choice for urban commuting and recreational rides. Here's a breakdown of its key features:
| Performance Metric | Specification |
| --- | --- |
| Maximum Speed | 18.6 mph (30 km/h) |
| Maximum Range | 18 miles (30 kilometers) |
| Motor Power | 350W |
| Speed Modes | Eco Mode: 13 mph (21 km/h) |
| | Sport Mode: 18.6 mph (30 km/h) |
| Battery Charging Time | 3-6 hours |
| Battery Capacity | 7.5 Ah |
| Wheel Type | Honeycomb Solid Tire |
| Wheel Size | 8.5 in / 21.6 cm |
| Brakes | EBAS Electronic Brake + Rear Disc Brake |
| Climbing Ability | ≤15° |
The isinwheel S9 Pro is designed for convenience and portability, making it easy to integrate into your daily routine. Here are its specifications:
Weight: 13.75 kg (30 lbs)
Foldable: Yes
Maximum Rider Load: 120 kg (264 lbs)
Recommended Age: 14-60 years old
The isinwheel S9 Pro Electric Scooter is equipped with a range of safety features and conveniences that enhance the riding experience:
Reflector: The scooter is equipped with reflectors, enhancing visibility in low-light conditions for the rider's safety.
Mudguards: Built-in mudguards protect the rider from dirt and water splashes, ensuring a clean and comfortable ride.
Multifunctional LED Display: A user-friendly display provides essential information, including speed, battery status, and mode selection.
Application: The scooter can be controlled and monitored through a mobile application, giving riders even more control over their experience.
Differences between isinwheel s9pro and S9 electric scooters
In the realm of electric scooters, the isinwheel S9 and S9 Pro have been two standout contenders, each offering their own unique features for urban commuters and recreational riders. However, the introduction of the S9 Pro has brought significant improvements, making it the more powerful and appealing choice. In article, we'll compare the isinwheel S9 Pro and the S9 electric scooter to highlight the key differences and why the S9 Pro stands out.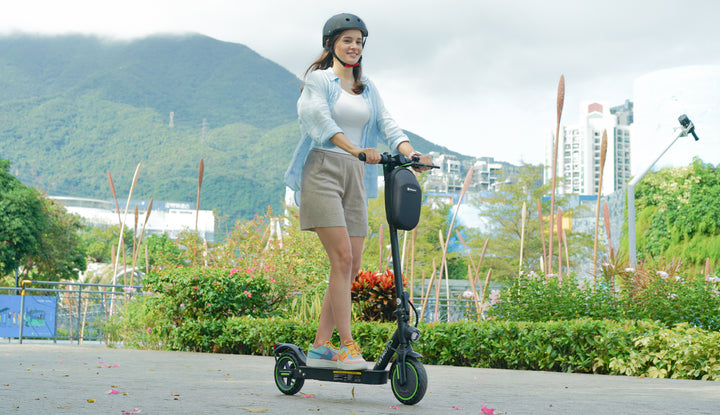 The Power Boost
One of the most notable enhancements in the S9 Pro is its power. The S9 Pro packs a punch with its 350W motor, which has been specially designed to cater to the demands of urban commuting. In comparison, the standard S9 features a less powerful motor.
Mileage Matters
When it comes to covering more ground, the S9 Pro takes the lead. With an impressive 30km maximum range, it outperforms the S9, which offers a maximum mileage of 25km. This 5km increase can make a significant difference in your daily commute or recreational rides, ensuring you reach your destination with ease.
Foldable Convenience
Both the S9 and S9 Pro are foldable, making them excellent choices for commuters who need a portable and compact transportation solution. This feature ensures that you can easily carry and store your scooter when not in use.
Riding Comfort
The S9 Pro takes riding comfort to the next level by incorporating rear shock absorption technology. This feature significantly improves the overall ride quality, ensuring a smoother and more comfortable experience, especially when navigating uneven terrain. In contrast, the standard S9 lacks shock absorption technology, which can lead to a less comfortable ride.
UK Market Update
If you're considering purchasing an S9, it's worth noting that S9 sales have been temporarily canceled in the UK market. This decision may be due to the introduction of the S9 Pro, which offers enhanced performance and features. Therefore, for UK customers, the S9 Pro is the logical choice for those seeking a top-tier electric scooter.
Buy isinwheel s9pro electric scooter
The isinwheel S9 Pro Electric Scooter is a high-performance, eco-friendly transportation solution that caters to the needs of urban commuters and recreational riders. With a sleek design, robust motor, and long-range capabilities, this electric scooter is changing the way we move in our cities. It's foldable, portable, and packed with safety features, making it suitable for riders of various ages. So, if you're looking to embrace the future of commuting, the isinwheel S9 Pro is a compelling choice for your everyday journeys.
---