At iScooter global Electric we are passionate about providing dedicated customer support, so you get total peace of mind with every electric scooter.

1. Do you provide a monthly payment plan?
Not yet, we would take it into account. Our website now suppot checkout payment/ paypal/credit card...
2.How long does it take to deliver?
The United kingdom delivery time 2-3 business days.(From United Kingdom West Midlands) Due to Covid-19, our couriers are experiencing extremely high volumes and reduced staff that has caused delays within their network. We are working hard to ensure all orders arrive in a prompt and timely manner.

3.Cancelling Your Order
If you would like to cancel your order, please contact us immediately via our email address: support@iscooterglobal.co.uk. Please include your order number when contacting us.

4. What is the warranty with this product?
If your item is found to be faulty within 180 days, you have a 180 days manufacturer warranty from the date of purchase.

5. How long does it takes for my order to ship?
We ship in-stock orders as soon as possible. (From United Kingdom West Midands)This is often the day you order it or the day after, but there are situations where it may take longer. If your item is in stock, your order is estimated to ship on the next business day. All estimates are based on business days.

6. What is your return policy?
If you are unsatisfied for any reason with your purchase, you can initiate a return or exchange up to 14 days from the date of delivery. For all eligible returns, item(s) must be unused and undamaged and labels and tags must remain intact and returned in their original packaging. Otherwise, the item may not be eligible for return.
7.Why choose iscooter?
iScooter features its full guaranteed stock in UK and timely shipment within 48 hours. And we have most customer-focused return policy to safeguard the consumes' rights and profits. To fully create a joyful and satisfactory shopping experience, iscooter provides both email, online chatting and phone call support available in working hours.
8.How old you need to be?
iScooter are considered one of the safest scooters in the market and easiest to ride. Practically, our scooters are suitable for both kids and adults. But to be specific out of safty, the minimum rider age we recommend is 6-8 years old. The best scooter model we offer for kids is the 6.5 inch tires scooter, and for beginner, the 6.5inch classic type may be perfect choice. But don't forget to wear a proper protective gear if no adult accompanied.
9.What is the limited weight?
Our 6.5INCH scooter is built for both kids and adults in mind. It is recommended for riders with a maximum weight of 220lbs. The 8INCH and 10INCH scooters can support up to 260 lbs given their larger wheel size.
10.How to deal with the balancing problems?
Usually it is quite common for a scooter losing its balance, cause each scooter on earth will lose its balance sometimes, just like no one in the world can never fall.
But the first thing is how can we confirm it is truly the balance issue?
Here comes a video regarding how to reset the balance of the scooter: https://youtu.be/2FYQQ0eqxCM 
11.Not working and still shaking violently?No worries, let's check inside the scooter.
The reason may be that the nipple at the end of the dither pad is too long, and we recommend you to open the back cover of the shaking end,
And find the nipple like the below image shows and cut it off a little to make sure its length so it can be parallal with the notch of the board above it.
12.Is our scooters waterproof?
There's always been a numinous bond between electronic gadgets and water. They just can't seem to stay apart from each other. Particularly if you think you can ride a scooter in the rain or water.
Just think about it. How often have you seen people drop their newest smartphones or iPads into the toilet or the pool? Or, even get them drenched in the rain?
Joining the list of electronic gadgets being damaged by water is the newest and coolest item in town, the scooter, or as the purists calls it, the self-balancing scooter.
But, if you're one of those people who just can't follow instructions, here's a small list of things to do when your scooter does get soaked.
Pay Close Attention to the Motherboard:
The motherboard is possibly the most significant component. So, first make sure you shut the scooter off, when and if it ever gets soaked. One trick you can follow is to bury the device in a bowl of raw rice, which is what is a lot done for smart phones, when they get wet. But, in this case, you will need a very large bowl or bucket of rice to bury the entire device.
On the other hand, if your scooter has been exposed to dirty or unclean water, you will have to dismantle the gadget completely. Once you dismantle it, you will have to take out the motherboard and clean it with rubbing alcohol. Just apply the alcohol using a q-tip. This will help you clear out all the debris stuck inside the motherboard.
Wet or Soaked scooter Battery:
The second most essential part in your scooter is its battery. If the battery gets damaged by water, then there's no way your device is going to go back to normal again. However, there is still little hope because the degree of the damage depends on how much water has gone in. So, you can try the same rice bowl trick here. Just soak the battery in little raw rice for a couple of days.
If it doesn't, then there's no reason to fret. You can always buy a new scooter battery from iscooter.
13.How long does the battery lase?
For 6.5 INCH scooter the battery will last about 1 hours. The duration of the battery is directly dependent upon the weight of the rider and driving conditions.
While our 8 INCH and 10 INCH scooters can last for at least 2 hours.


14.Which scooter wheel size is the best?  6.5″, 8″, or 10″?
With several different sizes and models, how do I know what is good for me for to buy for my kids or friends?
The scooter wheel size is probably the biggest deciding factor when purchasing a scooter. Each size offers distinct benefits when it comes to the age and needs of the rider.
However, if you are new to scooter and want the most affordable and practical scooter, the 6.5″ is the perfect size for you. It is our best selling scooter and built for for both kids and adults. Its light weight making it easier to carry around when not riding. In fact, over 90% of all scooters sold today have the 6.5″ wheels size… so you will not be disappointed!
Below you can learn more about each wheel size in detail with some benefits and limitations that each wheel size poses.
6.5 inch Wheel
6.5" wheel is the most common and has become a standard wheel size for all riders. It was used in the first scooter a few years ago and has a solid rubber tire without a tube, so the riding is worry free, meaning you don't have to worry about punctures in your tires.
It is a great scooter size for beginners due to its smaller wheel and easy to step on and step off. Because of its low clearance it is ideal for smooth surfaces, it can also be ridden in malls or in or around the house. It can also be used on sidewalks and asphalt surfaces, however it is not advisable to grass, rough terrain or gravel.
It is recommended for ages above 6 years old with a min. weight 45 pounds and max. weight up to 220 pounds, which brings fun for the whole family.
8 inch Wheel
8"wheel has slightly more powerful motors and battery capacity as compared to the 6.5" wheel and allows the rider to go a little faster due to slightly large wheels. However the difference might not be significant enough to notice the slight difference in speed.
8" solid rubber tire is perfect for some riders with growing needs. If you are in the age group of 10 to 14 or older this would be a step up from the 6.5" due to a little extra foot base, more clearance and higher pad level from the ground. It can also handle slightly rougher terrain given the larger diameter tires.
10 inch Wheel
The 10" is a HUGE step up from all the other sizes.
The 10" wheel offers a different experience due to its pneumatic (air-filled) tire. 10" models have become very popular for the same reason with young riders and adults. The 10" offers an amazing smooth ride on all terrains such as but not limited to; grass, sidewalks, indoors, and gravel. It is preferred by people that wish to ride for a longer period of time or want to handle all types of terrain. It is also suitable for long distance in some cases due to faster speed. The minimum weight range for the 10" is the same as the 6.5" and 8" at 40 pounds, however the 10″ can support up to 260 pounds.
The 10″ pneumatic tires are cheap and easy to replace but the rider should maintain the tire pressure to the rider's weight for the smoothest ride and longest lasting ride possible.

15. Which APP should i download and where i can find it?

Our APP called "MiniRobot". To install the app you can find it in the application store by searching its name or scan the code below.
Then you should open your APP, the bluetooth, and your scooter, it would sink for your scooter in the app automatically.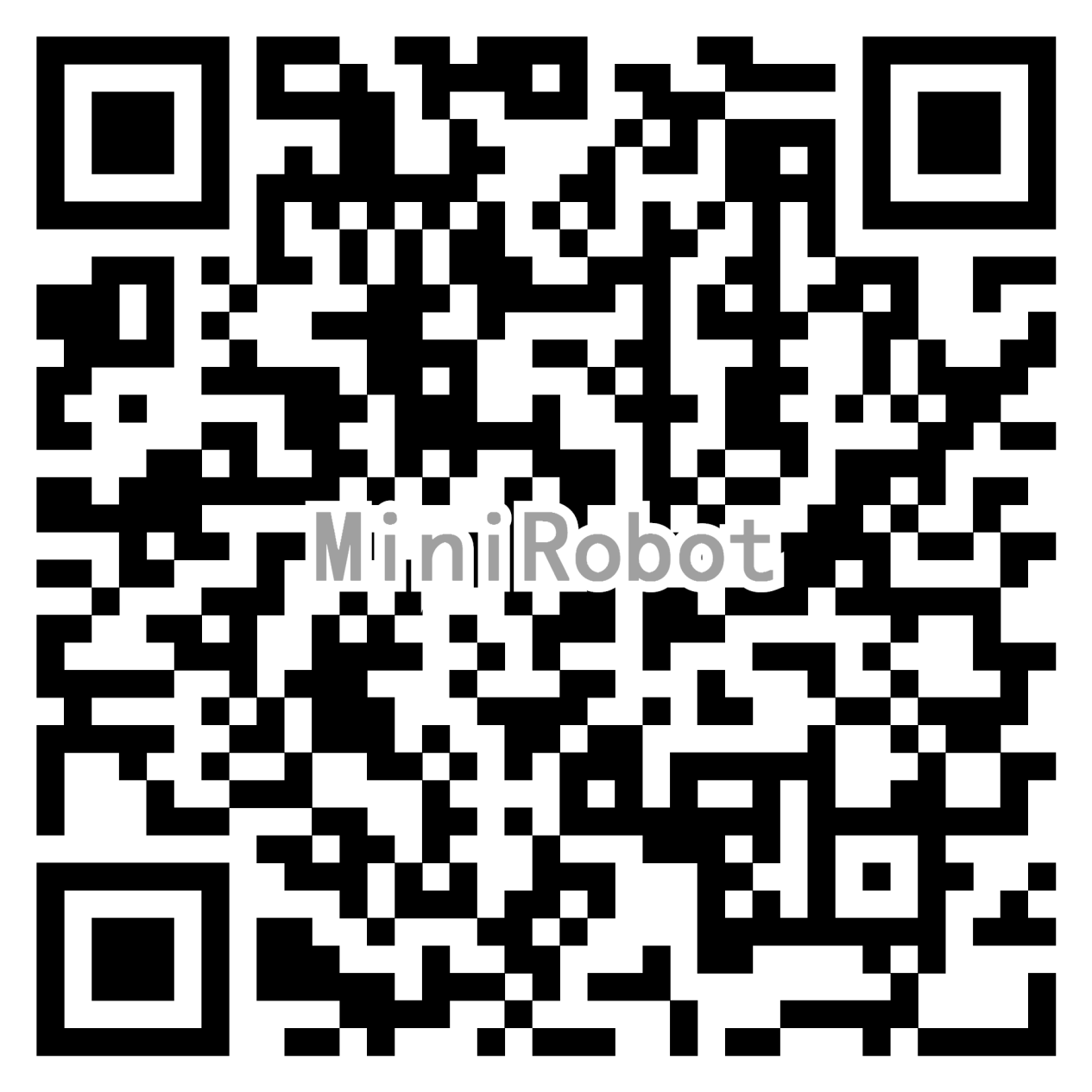 16. What should do when encountered with charging problems?
Get help from our service team(an video to show the charging status is requested):
Email: support@iscooterglobal.co.uk
Note: if the scooter won't turn on or work when fully charged for at least 2 hours, please send us an video to figure out the problems and give solutions. While not charging, make sure if it will be switched on after fully charged for at least 2 hours.
If not , please showing the charging status of the scooter, that is to say, you may need to get it connected with the charger, and turn on the button , show us all lights(on both charger and scooter) conditions including their colors and flashing times, next put your hands on the pads to test the action when charging. This matters a lot to our efficient help and determine how fast we can help solve problems for you.